Touch for Health Goal Setting & Metaphors
Touch for Health Metaphors
Make Touch for Health balancing more enjoyable, profound, meaningful and effective using supportive dialogue, positive goal-setting and creative visualization. 
Certification upon completion: 15hr attendance certificate
TFH Metaphors for more Meaningful and Effective Balancing
Using positive goal-setting and creative visualization.
Access mental/emotional and sensory/associative aspects of memory, posture & energy to make your TFH balancing more profound, effective and meaningful. Efficiently utilize the 111 metaphors in the TFH pocketbook with Chinese 5 element Metaphors, by TFH founder John F. Thie and Matthew Thie, to feel better and to gain new insight and enthusiasm for your life.
From finding an emotion related to a goal to balancing energy by making expressive sounds or combining color visualization with emotional stress release points, the standard TFH protocol provide us with a variety of options for accessing the powerful symbols of the Chinese 5 element Metaphors. Adding the Metaphors of meridian/organ function & muscle anatomy/function/gesture, we have 111 distinct images that can be dynamically incorporated into our balancing sessions
Prerequisites
Touch for Health Levels 1 & 2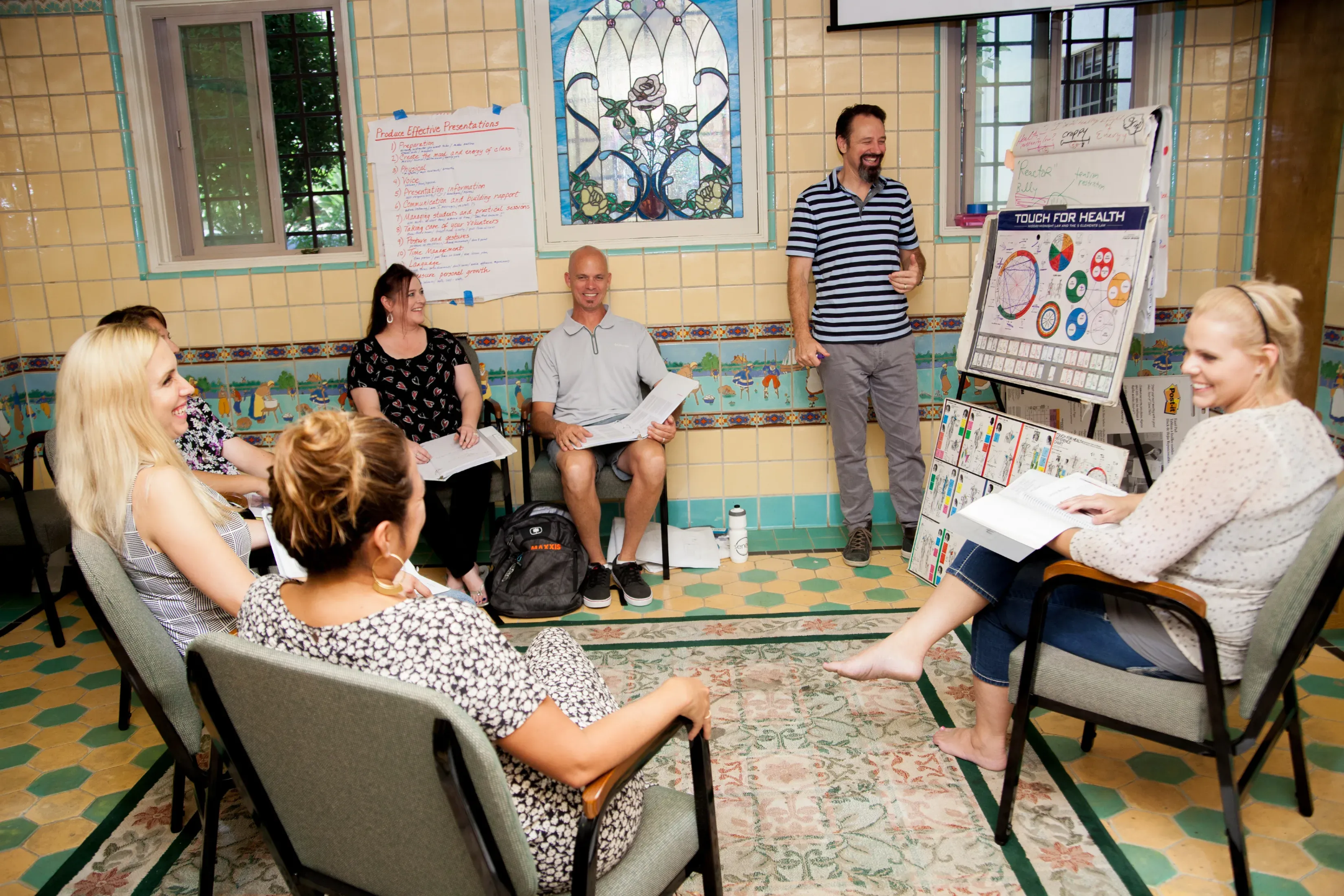 Touch for Health Goal Setting & Metaphors
For your Personal and Professional Touch for Health Practice
Continue your Touch for Health Education and develop an active practice of creation, maintenance and restoring of your own health and well-being.
Find a Class
ROBIN OLEATA, California
"I recommend the Touch for Health courses to anyone, professional or not, who would like to learn to live more consciously in their bodies."
STEPHANIE SHIPPER
"Matthew Thie is an extraordinary example of a teacher, author, and mentor who who is a living example of what he does. Few people are as singularly aligned with a vision and dream as Matthew faithfully demonstrates. He leads with heart, intention, and above all compassion. May you be lucky enough to attend his wonderful workshops!"
DENISE DZIWAK
"TFH CAN and WILL transform the way you look at your world, enhancing possibilities and connecting you to your higher purpose in life. "
SUZY BROWN
"Matt is a gifted teacher with an impressive ability to communicate the principles and practices of kinesiology. His classes are fun, lively and very effective. "
What is Touch for Health?
Touch for Health® (TFH) is a system of balancing posture, attitude and life energy for greater comfort, vitality and enjoyment of YOUR life.

 
Touch for Health is the most widely used system of energetic kinesiology in the world. Learn more about this easy, simple, and safe system of kinesiology (muscle-testing and energy-balancing) with goal-setting and creative visualization.
Learn more about TFH
Subscribe for Updates on ALL Things Touch for Health!
Discover techniques, updates on classes, and more.